Townsville Police Department is the police station of Townsville.
They follow the orders of The Mayor.
They may confront any villains.
One cop became a criminal in the episode Cop Out.
In Twisted Sister, Bunny mistook the police for the bad guys.
They were manipulated by Him in the episode Tough Love.
In Bought and Scold, Princess Morbucks ruled the town with all recuit criminals and the police are owned by her and all cops are corrupt.
Blossom is arrested for theft in A Very Special Blossom.
In Crime 101, the girls are arrested by cops.
In Powerpuff Bluff, they are arrested by cops with accusation.
They're never seen, only mentioned.
In the 2016 series:
They only appear in the episode Strong-Armed and are mentioned in others.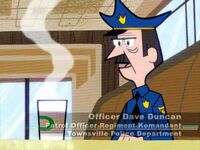 See also
Community content is available under
CC-BY-SA
unless otherwise noted.