Wiki Targeted (Entertainment)
Play Sound
"Sugar, spice, and everything nice. These were the ingredients chosen to create the perfect little girl. But Professor Utonium added an extra ingredient to the concoction... Chemical X! Thus, The Powerpuff Girls were born! Using their ultra-super powers, Blossom, Bubbles, and Buttercup have dedicated their lives to fighting crime and the forces of evil!"
— Opening narration
The Powerpuff Girls (1998 TV series)
Voices of
Opening
Theme song
Country
United States
Original
language
English
Production
Character
designers
Producers
Production
company
Cartoon Network Studios
Release
Original
channel
Cartoon Network
Original
run
November 18, 1998-
March 23, 2007
The Powerpuff Girls is an Emmy award-winning American animated television series revolving around three super powered little girls and their many battles against evil opposition. Created by animator Craig McCracken, the program was produced by Hanna-Barbera until 2001 when Cartoon Network Studios took over production. The series is an action comedy with common inspires of American superheroes as well as Japanese Tokusatsu.
The series was a launching pad for an entire media franchise including an anime, three CD albums, numerous video games, a multitude of merchandise, and a feature film. In 2016, the series also received a reboot. 
There is an article of the same name, you may be looking for the The Powerpuff Girls (characters) page!
Overview
Powerpuff Girls revolves around the adventures of Blossom, Bubbles, and Buttercup, three kindergarten-aged sisters with super powers. The plot of a typical episode is some humorous variation of standard superhero and/or tokusatsu fare, with the girls using their powers to defend their town from various villains, such as bank robbers, car thieves, gangsters, mad scientists, aliens and giant monsters, amongst others.
In addition, the girls also have to deal with normal issues young kids face, such as bed-wetting or dependence on a security blanket. There is often a particular influence from 1950s, 60s, and 70s culture. Ranging from bands such as The Beatles and films like Star Wars.
The show primarily had a thick line animation style with character designs and settings drawn with angular and/or blocky shapes with an aesthetic akin to that of a classic Hanna-Barbera cartoon mixed with that of 1950's pop art. The series also made extensive use of limited animation with it's action sequences taking influence from the MTV series "Stevie and Zoia" and possibly retro anime such as Speed Racer which took advantage of the lack of in-between frames to create action that while very sudden created a fast pace and made hits feel solid.
Starting in Season 4 after the release of the movie the show would transition to digital animation with updated character designs and a brighter color palette. Movie critic Bob Longino of the Atlanta Journal-Constitution praised the style in his review of The Powerpuff Girls Movie by saying that "the intricate drawings emanate 1950s futuristic pizazz like a David Hockney scenescape," and that The Powerpuff Girls is "one of the few American creations that is both gleeful pop culture and exquisite high art."[1]
The show's background music is of the drum and bass genre with McCracken scoring the series like a movie, with the music fitting the mood of a scene and characters having a certain sound accompanying them (similar to how characters in many films have themes or leitmotifs). For example, Blossom is defined by brass instruments that convey a "heroic" feel, Bubbles has a "belly" cute sound to her, and Buttercup has a rock sound that conveys a strong "actiony" vibe. The series composer, James Venable compares the series music to that of a 50's monster movie and big beat techno.
Setting
The show mainly takes place in the fictional city of Townsville, USA. Townsville is depicted as a major American city, with an impressive cityscape consisting of several major skyscrapers. The physical location of Townsville has never been determined. Cities like LA, New York City, Seattle, Paris, London, Chicago, and Tokyo have been shown throughout the series.
History
Craig McCracken, a student of California Institute of the Arts, created The Whoopass Girls in 1992 in his short film The Whoopass Girls in A Sticky Situation. Spike and Mike's Sick and Twisted Festival of Animation selected the short in 1993; McCracken submitted it to Hanna-Barbera's innovative What A Cartoon! shorts program (eventually to be produced for Cartoon Network as "The Powerpuff Girls in: Meat Fuzzy Lumkins" as part of World Premiere Toons) while working on Dexter's Lab.[2] As the word "whoopass" was deemed verbally inappropriate for younger audiences, considering the last three letters, the word was replaced by "powerpuff."

The Powerpuff Girls TV debut in 1998 was the highest rated premiere in Cartoon Network's history at the time. For the first few seasons, the series consistently scored the highest rating each week for an original program for the network across a wide range of demographics—from young children to adults.[3] In October 2000, Cartoon Network credited the Powerpuff Girls for its Friday night prime time ratings win among cable networks.[4] By 2001, merchandising based on The Powerpuff Girls encompassed everything from T-shirts, toys and video games to lunchboxes and dishware. There was also a CD entitled Heroes and Villains, featuring original songs about the Powerpuff Girls characters by a number of artists, including the New Wave group Devo.[3] Concerning the Powerpuff Girls success, Craig McCracken has stated "I thought it would get on Cartoon Network and college kids would watch it and there would be a few random T-shirts out there in the rave scene or in record shops. But I had no idea that it would take off to this extent." [3]
In April 2005, plans for an anime version, Demashita! Powerpuff Girls Z were announced and the series premiered in Japan the following year. The series deviates highly from its American predecessor in terms of style, storyline, and characterization. Cartoon Network in the USA currently has no plans to air this show.
Characters
Opening and ending themes and sequences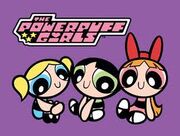 James L. Venable composed the opening theme of the series and Scottish band Bis performed the ending theme song, as played during the credits. Veteran announcer Ernie Anderson (more well known as "The Voice of ABC" in the 1970s and 80's) was the narrator of the two pilot episodes and would have likely continued to narrate. However, Anderson passed away in February of 1997, the year before the show became a series, which left the studio to hire voice actor and comedian Tom Kenny to be the series' narrator. Tom Kenny narrated the introduction, and also acted as narrator through the series era.
The opening narration reads as follows: "Sugar, spice, and everything nice. These were the ingredients chosen to create the perfect little girl. But Professor Utonium accidentally added an extra ingredient to the concoction: Chemical X! Thus the Powerpuff Girls were born! Using their ultra super powers, Blossom, Bubbles, and Buttercup have dedicated their lives to fighting crime and the forces of evil!"
As the narration reveals, Professor Utonium created the girls out of sugar, spice, and everything nice (a reference to the nursery rhyme "What Are Little Boys Made Of?"), plus the accidental addition of Chemical X. The opening of the series pays homage to the animated beginning of 1960s live-action television series, Batman, as both shows feature a pan across a gallery of villains, with the animated heroes running toward the viewer while striking the villains, who are tossed away in slow motion.
Reception
In a 2000 - 2007 Entertainment Weekly review, Marc Bernadin complimented the show on its "spot-on pop-culture acumen" and "unparalleled sense of fun", giving it a warm welcome from earlier "lame" superhero cartoons that he grew up with. Peter Marks of The New York Times noted the show's use of adult humor and pop culture references, declaring it "the sort of playful satire that can appeal as much to a viewer of 37 as 7." Joly Herman of Common Sense Media describes the show as a "cute, highly stylized series thrills the senses with its strange characters, funny situations, and lots of lowbrow humor". She goes on to say, however, that the show does go from innocent to violent in no time and that there is not much protecting young viewers against the violent undertones. Robert Lloyd of the LA Times said that the series might be "transgressive" based on little violence but "also cute".
Danske Stemmer
Ole Fick – Ace
Louise Engell – Aerobic pige
Louise Engell – Baby
Cecilie Stenspil – Baby 2
Henrik Bærentsen – Barn
Cecilie Stenspil – Bellis
Ole Fick – Bestyrer
Lasse Lunderskov – Betjent
Marie Schjeldal – Blomst
Louise Engell – Bobbel
Ole Fick – Borgmester
Peter Aude – Butikmand
Peter Aude – Chauffør
Louise Engell – Computerstemme
Louise Engell – Dame
Lasse Lunderskov – Direktør
Cecilie Stenspil – Dreng 1
Peter Røschke – Fjoker
Peter Røschke – Fluffy Labsko
Thomas Kirk – Fred
Louise Engell – Frøken Keane
Louise Engell – Gammel Dame
Hans Henrik Bærentsen – Gris
Lasse Lunderskov – Ham
Donald Andersen – Hund
Thomas Kirk – Hund 2
Vibeke Dueholm – Ida Eviggod
Louise Engell – Kat
Hans Henrik Bærentsen – Kat 2
Thomas Kirk – Kinesisk Hund
Louise Engell – Kvinde
Ole Fick – Kører
Hans Henrik Bærentsen – Lille Arthur
Henrik Bærentsen – Lille Dreng
Hans Henrik Bærentsen – Lipowicz
Peter Røschke – Mand
Lasse Lunderskov – Mand 2
Hans Henrik Bærentsen – Mand 3
Thomas Kirk – Mand 4
Lasse Lunderskov – Meteormanden
Peter Aude - Mojo Jojo
Peter Aude – Monster 1
Lars Thiesgaard – Monster 2
Peter Røschke – Monster 3
Louise Engell – Nabo
Lasse Lunderskov – Nyhedsoplæser
Peter Aude – Ond Mand
Donald Andersen – Opråber
Thomas Kirk – Pierre
Thomas Kirk – Politimand
Lars Thiesgaard – Professor
Lars Thiesgaard – Professor Utonium
Lasse Lunderskov – Pølsemand
Ole Fick – Regnbuen
Lasse Lunderskov – Robo-Lakken
Hans Henrik Bærentsen – Robot
Lasse Lunderskov - Rugby Fyr
Peter Røschke – Røver
Louise Engell – Sara Bellum
Lasse Lunderskov – Smykkehandler
Lasse Lunderskov – Store Billy
Thomas Kirk – Vagt
Lasse Lunderskov – Vagt 2
Fortælleren
Episodes
A total of 78 half hour episodes were broadcast, spanning across six seasons and one self-titled movie.
There was also a Christmas episode that aired in 2003, and one episode that was never aired in the U.S. There was also an episode that was in production entitled "Deja View" that was turned into a Powerpuff Girls comic instead.
In 2001, production of a Powerpuff Girls movie began and suspended production of Season 4 leading to the show to be on a hiatus. On July 3, 2002, The Powerpuff Girls Movie released in theaters telling the story of how Professor Utonium created the Powerpuff Girls and how they began to defend the city from the fearful villains. McCracken directed the film.
On March 18, 2008, Tara Strong announced that there would be a second Powerpuff Girls special in an interview with The Big Spoon. According to C' Raggio's blog, it uses Flash Animation. The special's plot: The girls find out that the key to the world is coming to Townsville. The girls have hoped that the key will never come to Townsville because it gives the person who has it the right to rule the world. Every villain (except the Rowdyruff Boys) searches for the key in the town. The girls decide that they cant beat all the villains, so they look for the key themselves. They have no luck until Bubbles points out that the mayor is a complete idiot and probably left the key in his desk drawer. They race all the villains there and almost lose to Mojo Jojo. When Mojo Jojo loses the race he gives up with ruling the world and decides to be a normal citizen. The girls start to lose sight of what is important and decide that they want to rule the world with different ideas each. They start to fight over the key and all the villains show up and its a big fight with the girls winning. But then they start fighting each other for the key until they see all the townspeople looking down at them of how they look. The girls apologize and the Mayor takes the key and starts a speech. Mojo Jojo seeing his chance ask the mayor for the key and the mayor not paying attention gives it to him. Mojo Jojo starts to build his machine and puts the key into the machine. While the town is scared of what is about to happen Mojo turns the world into a happy place. Everyone is surprised by what Mojo Jojo wanted to do the whole time, including the girls. Then Mojo Jojo starts to get bored because there is nothing wrong with the world and starts to hate it. He starts to blow up the city, the Girls go fight Mojo and it ends. The special aired on January 19, 2009 in the United States.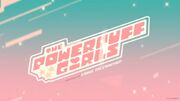 On January 28, 2013, it was announced that a new CGI special titled Powerpuff Girls Special: Dance Pantsed (Originally titled Powerpuff Girls Special: Dance Pants R-EVIL-ution) starring the girls would premiere later in the year, but it was announced on December 16, 2013 that the special would premiere on January 20, 2014. The special featured Ringo Starr of the Beatles singing an original song "I Wish I Was A Powerpuff Girl" as well as voicing a new character named Fibonacci Sequins. The special was be directed by Dave Smith, who wrote and directed episodes for the series in the past, along with the original cast members returning to reprise their roles. This marks the first time series creator Craig McCracken had no involvement. The episode's plot has Mojo Jojo kidnap Fibonacci along with an opera singer and a badger. The girls rescue all of them, and defeat Mojo yet again with his kidnapping plan. Not deterred he then goes on to invent an evil video game called "Dance Pants R-EVILution," in order to steal Professor Utonium's chemical X and take over Townsville. 
Promo
Reboot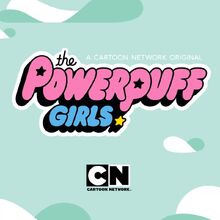 On June 16th, 2014, Cartoon Network announced a comeback of the series that aired in 2016.[5]. Nick Jennings serves as the executive producer.[6] Creator Craig McCracken isn't involved, since he worked for Disney while the reboot was in production.[7]
Tara Strong stated on Twitter that the girls themselves were being recast, and later said she, Cathy Cavadini, and E.G. Daily were beyond hurt, but held no ill will. Tom Kenny, Roger L. Jackson, and Jennifer Hale reprise their respective roles (though Hale has been replaced as Princess Morbucks).
Despite positive anticipations from audiences, the reboot ended up unsuccessful to live up to expectations. It received very mixed to negative reviews from critics, and was lambasted by audiences. Although it gained relatively high ratings at the start of its runtime, its ratings drastically dropped. Since September of 2016, most of its newer episodes failed to reach over a million viewers.
Parodies and comics
A crossover parody of The Powerpuff Girls and 2 Broke Girls was done in Cartoon Network's TV series MAD's second season known as "2 Broke Powerpuff Girls". The parody which aired on January 30, 2012, is of Bubbles and Buttercup, who are broke and work for "Him" in a diner after the show got placed on permanent hiatus. Tara Strong (Bubbles) and Tom Kane (HIM) reprised their roles here. The MAD episode with the parody ranked  #26/30 for the week with 1.903 million viewers. In February 2013, IDW Publishing announced a partnership with Cartoon Network to produce comics based on its properties and The Powerpuff Girls was one of the titles announced to be published. A fan-produced webcomic series called PowerPuff Girls Doujinshi was created in 2004 and released through Snafu Comics. The girls are shown to be a bit older than, but with the same personalities as, their T.V. counterparts, and the comic includes many characters from other cartoon shows. The story has the girls now going to school in a neighboring city of Townsville known as Megaville. The comic was the "Outstanding Superhero Comic" and "Outstanding Character Art" winner on the Web Cartoonist's Choice Awards in 2005. In 2010, an adult comedy animated series known as Panty and Stocking with Garterbelt premiered, featuring an art style that mimicks that of the Powerpuff Girls and several other Western cartoons. Shortly after the 2014 CGI special's release, a comic which was published by IDW Publishing was withdrawn after retailers complained that they wanted to boycott the issue. The comic, which shows the Powerpuff Girls with breasts and dressed in latex, was designed by an artist who works for Cartoon Network. The artist was "thinking of it more along the lines of 'female empowerment' than the kind of thing you guys are talking about". Cartoon Network said in a statement: "We recognise some fans' reaction to the cover and, as such, will no longer be releasing it at comic book shops."
Awards
The show has been nominated for an Emmy five times in 1999 & 2000 for "Outstanding Achievement in Animation". In 1999 the show won the Emmy for episode 1.09 - "Bubblevicious" & "The Bare Facts." In 1999 & 2000 the show also won Emmys, both juried for non-nominated selections.
The show has also been nominated for an Annie award nine times, winning it twice.
DVD releases
See also
External links
References