The Powerpuff Girls: Defenders of Townsville

Developer(s):
Radian Games
Publisher(s):
Steam
Platform(s):
PC
Release date(s):
14 Mar 2014
Genre:
Side scroller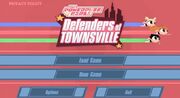 The Powerpuff Girls: Defenders of Townsville, is a Steam based video-game created by Radiangames. As it may suggest, the game follows around The Powerpuff Girls, in their attempts to stop Mojo Jojo and his evil robot army.
Formerly this game was available for purchase at iTunes, Steam and Google play. It has been taken down for marketing reasons.
Sypnosis
Use your arsenal of superpowers to stop Mojo Jojo's latest scheme in this brand-new Powerpuff Girls adventure shooter! Play as Blossom, Bubbles and Buttercup as you explore the far reaches of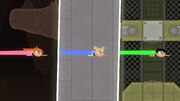 Townsville, battling Mojo's evil robots in a quest to get all your powers back. 
Explore four vast areas in a sprawling "Metroidvania" style adventure. 
Play as Blossom, Bubbles and Buttercup, and use each girl's unique powers to unlock new parts of the map. 
Battle tons of evil robots with different behaviors and attack patterns. 
Tackle four titanic boss battles. 
Find hidden upgrades to empower your heroes and learn new abilities. 
Choose the Modern look/new CGI designs from the Powerpuff Girls: Dance Pantsed special or the

 famous Classic look/original designs from the original Powerpuff Girls TV series. 
Mojo's Key Quest, a "New Game+" mode that lets you replay the game with remixed rooms and all 3 girls powered up.
Reviews
As Jared said in his Game of the Week write-up on the game, you don't have to be a fan of Powerpuff Girls to enjoy this game. It's a well-made entry into the genre, and one of the very few that does a straight take on the concept instead of merely invoking the name because there's a hub and a few secrets. It's also complete without any IAP, and of reasonable length for the type of game it is. If you do happen to be a fan, you're going to be thrilled. The Powerpuff Girls have had quite a few games over the years, and not one of them has been very good at all. Well, that's changed. Apart from some minor issues with the controls, boss fights, and audio, I can't think of much to say against this game. Pick it up and prepare yourself for the best rainy day adventure ever. Well, maybe the second best. -TouchArcade
Galleries:
CGI-Style
Traditional Style
Community content is available under
CC-BY-SA
unless otherwise noted.