Wiki Targeted (Entertainment)
Play Sound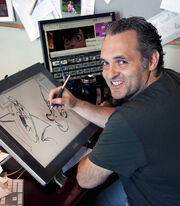 Genndy Tartakovsky is an Emmy-Winning animator, voice director, and story board artist. He has written many episodes of The Powerpuff Girls and has storyboarded some episodes as well. He is also known for creating original Cartoon Network shows such as Dexter's Laboratory, Samurai Jack, Star Wars:  Clone Wars Volumes 1 & 2, and Sym-Bionic Titan. Since 2011 Tartakovsky took an extended leave from Warner Bros. Animation and began working on paid commissions, most notably an animated prologue for the action-horror film Priest, in 2011, and later the Hotel Transylvania animated film series for Sony Pictures between 2012 to 2018. The Priest prologue sequence was Tartakovsky's debut into adult-orientated animation, excluding the animated pilot Korgoth of Barbaria from 2006, wherein he helped animate but did not helm. During his time on Hotel Transylvania, production on the fifth and final Samurai Jack episode began. Season 5 of Samurai Jack aired on Adult Swim in 2017 which signaled Tartakovsky's return to Warner Bros., as well as on his focus towards adult cartoons. During the fifth season's run Tartakovsky began working on Primal, another mature rated animated series which aired on Adult Swim in 2019. Currently, Tartakovsky is working both on the second season of Primal, as well as a new child orientated animated series titled Unicorn: Warriors Eternal.
Known Works
Tiny Toon Adventures (Assistant animator)
2 Stupid Dogs (Animation Director, and storyboard artist)
The Critic (Animation timer)
Dexter's Laboratory (Creator, director, writer, and producer)
Cow and Chicken (Writer and storyboard artist; Episode: "Cow's Pies")
The Powerpuff Girls (Supervising producer, director, writer, and storyboard artist)
Foe Paws (Animation Director)
Samurai Jack (creator, director, writer, and producer)
The Grim Adventures of Billy and Mandy (Supervising producer)
Star Wars: Clone Wars: Volumes 1 & 2 (creator, executive producer, and director)
Duck Dodgers (voice actor)
Korgoth of Barbaria (Director)
Sym-Bionic Titan (Co-creator, director, writer, and producer)
Priest (Animated prologue Director)
Hotel Transylvania (Director)
Steven Universe (Timing director; pilot episode only)
Hotel Transylvania 2 (Director)
Trolls (Creative consultant (uncredited))
Puppy! (Director)
Hotel Transylvania 3 (Director and co-writer)
Samurai Jack: Season 5 (Director and writer)
Primal (Creator, Director and Writer)
Unicorn: Warriors Eternal (Creator)(in-production)
Community content is available under
CC-BY-SA
unless otherwise noted.