Wiki Targeted (Entertainment)
Play Sound
"Equal Fights" is the second half of the twelfth episode of Season 3. It first aired on Cartoon Network in the United States on January 5, 2001.
Plot
A villainess named Femme Fatale convinces the Powerpuff Girls to hate men so she can steal all of the Susan B. Anthony coins in Townsville.
Synopsis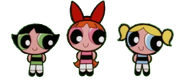 The city of Townsville has always been a place where people are satisfied, as they get their fair share and help each other out. While the girls are at school, they receive a call from the Mayor saying that the bank is being robbed, and so they dash into action. The robber turns out to be a woman named Femme Fatale, who demands nothing but coins bearing the image of Susan B. Anthony (since other dollars and coins have pictures of men on them). Before she can escape, the girls appear on the scene and quickly haul her off to jail.
Femme Fatale claims that the city of Townsville belittles the girls' talents, while also pointing out that female superheroes aren't looked up to as much as male heroes are. Buttercup is shocked at this revelation and drops Femme Fatale, but her fall is broken by a construction worker and she flees before the girls apprehend her once more. After she convinces them that sending her to jail would be a blow to women everywhere, the girls let Femme Fatale go, unknowingly allowing her to continue her crime spree.
At school, the girls notice a boy knocking a girl down while playing catch, and begin to act hostile towards the rest of the boys. Back at home, the Professor is in the middle of cleaning the house and asks the girls to clean their bedroom, to which he receives a death glare. Later, while destroying her male dolls, Blossom gets a call from the Mayor asking them to save the day. She refuses, angrily telling him to go do it himself, and hangs up. Ms. Bellum calls the girls and asks them to meet her in the Mayor's office, where they are confronted by her and Ms. Keane, both of whom have staged an intervention. The two try to correct the girls' new outlook on life and get them to realize that the boy who knocked the girl down at school did it by accident and was only playing with her, the Professor only asked the girls to clean their room so he could do all the other chores, and that the mayor asked them to save the city because he is unable to do it himself.
Realizing that they overreacted, the girls still point out that Femme Fatale is the only real female villain in Townville, and Mrs. Bellum points out that they didn't stop her. Buttercup justifies this by saying that girls have to look out for each other, only for three other women to come forward – a female teller, whose bank Femme Fatale stole Susan B. Anthony coins from; a policewoman, whose arm Femme Fatale broke; and a teenage girl, whose hairstyle Femme Fatale apparently copied – and they ask the girls if Femme Fatale was looking out for them when she did those things. The girls realize that not only did they overreact, but that Femme Fatale is a massive hypocrite and that everything she said was only a ruse so she could continue her crime spree unopposed.
At a coin convention, Femme Fatale is confronted by Blossom, Bubbles and Buttercup, who she believes are still on "her side" and begins to leave. The girls stop Femme Fatale and ask her if she even knows who Susan B. Anthony was. When it becomes apparent that Femme Fatale doesn't, the girls decide to tell her the real story of Anthony. For a long time, women weren't allowed to do much of anything, which Susan B. Anthony knew was wrong. She broke the law by voting in the 1872 Presidential election, a right that was denied to women in the United States until the 19th Amendment to the Constitution was passed in 1920. While Anthony was found guilty, the authorities wanted to show her leniency because she was a woman. Instead of special treatment, Anthony wanted to be treated equally by being sent to prison just like any man who had broken the law, which the girls now tend to do to Femme Fatale. The girls beat her up and send her to prison, where she gives a very stereotypical complaint about how the uniform makes her look, claiming that horizontal stripes make her look fat. When the narrator closes the episode, he states that there are no "chick narrators", only for something to be thrown at him.
Characters
Main
Minor
Trivia