Dream Scheme is episode 17-A of season 2 of The Powerpuff Girls, it aired on September 24, 1999.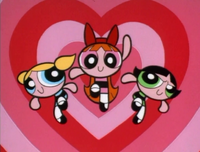 Synopsis
The Powerpuff Girls refuse to go to sleep, and they run into trouble with The Sandman.
Plot
Putting everyone in the world to sleep can be a hard job and the Sandman has been wanting to get some sleep himself, so to make it easier, the Sandman builds a machine that puts everybody to sleep forever. Suddenly, the Powerpuff Girls confront the Sandman in their own bedroom, but before they try to stop him, the Sandman knocks them out and goes back to his lair to get some sleep. The Powerpuff Girls, while sleeping, enter the Sandman's dreams (after appearing in each other's dreams) and frighten him and crash his good dream staking on animal forms and resuming their human forms along the way. Then, the Sandman promises that he will never sleep again and finally, he wakes everybody up. However, the Girls also wake up from the Sandman's spell, but go to bed and sleep in late anyway.
Characters
Major Roles
Minor Roles
Home Videos Released
Trivia/Goofs
Community content is available under
CC-BY-SA
unless otherwise noted.