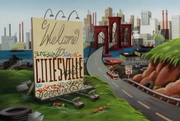 Citiesville
is a city not too far from
Townsville
, located in
Pokey Oaks County
. The two cities are connected by a single suspension bridge, which is a historical landmark and the central attraction in Citiesville. However, Citiesville's citizens and government don't allow superpowers or superheroes due to the destruction of the aforementioned bridge caused by
the Powerpuff Girls
. Citiesville is also an industrial city with high rise buildings built in the first half of the 20th century. Unlike Townsville, there are no modern skyscrapers in Citiesville.
Citiesville is meant to be seen as a more 'realistic' city as opposed to Townsville and is meant to act as a deconstruction of how the Powerpuff Girls' brand of heroics would affect real life.
In Citiesville, the mayor is a competent and very busy individual. The buildings are not brightly colored and cheerful, the people can be cruel without being villains, students can't just leave in the middle of class and the destruction of irreplaceable city landmarks to catch petty criminals is not tolerated. Crime in Citiesville is rampant, and the police are largely unable to prevent criminal activity.
Citiesville is based off Pittsburgh, PA; Chicago, IL; Stamford, CT; New York, NY; Newark, NJ; Jersey City, NJ; Detroit, MI; and/or Bridgeport, CT.
The design of Citiesville City Hall is based off of Los Angeles City Hall in Los Angeles, CA.
The design of the Citiesville Bridge is based off the Brooklyn Bridge in New York, NY.
Appearance
The town of Citiesville only appeared in "Town and Out." In this episode, Professor Utonium gets a new job at the laboratories and has to move there with the Powerpuff Girls to start living a new life in an old run-down apartment. The town itself is in poor condition, with houses broken and dirt everywhere. The girls have a hard time making new friends, helping the Citiesville mayor and fighting crimes. But the Professor likes Citiesville at first, until the employees of the laboratories start picking on him at work and calling him square, causing him to end up hating Citiesville as well, so the Professor was convinced by his three daughters and they leave Citiesvillie for good and return to their old life and true home again: the city of Townsville. Seventeen years later, the town of Citiesville is mentioned in name only in the 2016 TV series episode "The Last Donnycorn", although it is not seen at all in that episode.