Spider-Man: No Way Home Trailer Dropped - The Loop
Play Sound
Can't Buy Love is the eighth episode (and the eighty-seventh episode overall) of Season 3 of the 2016 Powerpuff Girls series. It aired on Cartoon Network on June 9, 2018.
Synopsis
After an accidental run-in during a fight with Blossom, Princess Morbucks falls in love with Barry Mackerbacker. She spends copious amounts of time wooing him but he seems oblivious to her advances. When Blossom checks Barry's injured hand, Princess accuses her of trying to steal Barry, leading to a fight. Blossom still isn't sure what started it.
Plot
TBA
Characters
Trivia
The heartbreaker suit Morbucks was wearing might have been a reference to and Iron Man suit of the same name
This is the first time Morbucks falls in love, unlike her 1998 counterpart.
This reveals Barry's last name is Mackerbacker.
This reveals that the last name of The Powerpuff Girls is "Utonium", as seen in the school yearbook.
Morbucks' butler, Cornelius, gets his first speaking role in this episode.
This marks Barry's second major role ever since season 2 episode "The Blossom Files".
Morbucks' Campaign Headquarters from "Presidential Punchout" reappears.
This episode begins when Buttercup tells Morbucks that she cheated in kickball. The second time Morbucks is accused of being a cheater happened later again in "Aliver".
This is the first time Morbucks lets her hair down and expands to get longer.
Goofs
When Morbucks opens the yearbook and traces a heart on Barry's picture, the Girls are doing the same pose, but when she burns down the yearbook, the Girls are doing different poses. Blossom is wearing business attire, Buttercup puts her hand inside her mouth, and Bubbles is wearing the same glasses she wore in her imagination in 15 Minutes of Fame.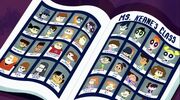 References
Can't Buy Love - This episode title is from The phrase "money can't buy love".
The Little Mermaid - Morbucks' dream sequence is a reference to the 1989 animated Disney movie.
Ice Age Continental Drift - When Blossom attempts to lure Barry in Morbucks's dream, she becomes evil to Morbucks, similar to one of the Sirens in Ice Age, which also lured somebody (Gutt) and starts to become evil.
George Michael - The song "Special Lady" is a sound-alike version of "Careless Whisper".